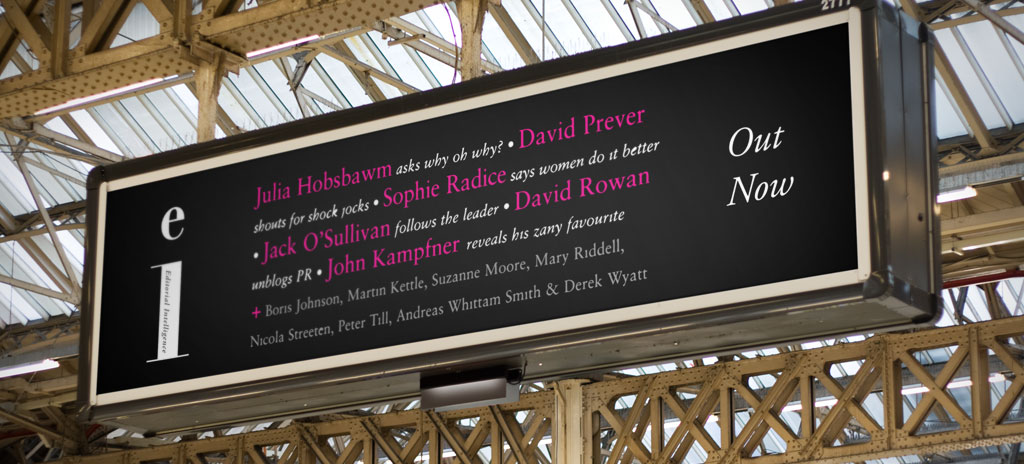 Jack O'Sullivan launch-edited the first edition of Editorial Intelligence, the house magazine for Julia Hobsbawm's EI consultancy on the comment media.
We have a particular expertise in working with the Comment media because Jack was Comment Editor at The Independent newspaper and wrote regular columns on social policy for the paper. We continue to support clients who wish to write for the comment media, helping to draft articles for them and to advise on how to look at subjects in ways that will interest policy makers and the general public.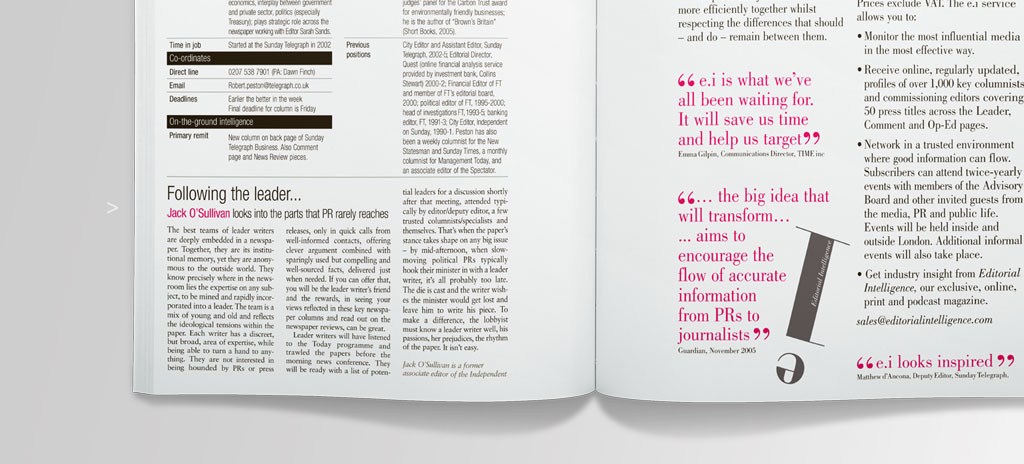 Jack also writes for newspapers in a personal capacity on different aspects of health and social policy, gender and Islam.
Articles include:
'£10 each can save the NHS':' This piece sets out the key recommendations of 'Solving the NHS Care and Cash Crisis', by Norman Warner and Jack O'Sullivan, published by Reform in April 2014, including a radical shift towards co-production of health via a new partnership between individuals and the state.
Read more: http://www.theguardian.com/commentisfree/2014/mar/31/10-pounds-eachsave-nhs
'The masculinity debate: no wonder men stay out of it.' This piece explores the reasons why men tend not to participate in discussions about masculinity, despite the assumption that they are powerful and have access to the media. It suggests that the often hidden power dynamics of the home help to explain the paradox.
Read more: www.theguardian.com/commentisfree/2013/may/21/masculinity-debate-men-fear-ridicule-matriarchy
'Tradition is the enemy of happy families'. This article explores research by two remarkable US academics, Philip and Carolyn Cowan, who have been studying what makes modern couples tick. It argues: 'Something tragic happens to apparently modern British couples at the patter of little feet. We all see it, if we are honest. Two people, in love, raised in and committed to values of equal partnership just seem to lose it. Amid all the joy and ambition, many of them are quietly, inadvertently and perhaps irrevocably pressing the couple-destruct button. Dad gets "provider fever", works harder, and gains economic power over his partner – and enhanced relative power in the public realm. It's a disheartening reversal: a "patriarchal moment". Meanwhile, mum has her "matriarchal moment", winning domestic control, largely taking over the private and social realms. Ancient norms reassert themselves despite the couple's vows to do things a different way. After that, fathers and mothers rarely relinquish their respective powers. Yet there is a bitter twist: this power is claimed at a cruel price.'
Read more: www.theguardian.com/commentisfree/2013/mar/07/tradition-enemy-happy-families
'Breon O'Casey, artist' An appreciation of the artist Breon O'Casey, whose biography was written by Jack O'Sullivan. Breon was a versatile artist and craftsman and a prominent member of the St Ives school. Read more: www.theguardian.com/artanddesign/2011/may/31/breon-ocasey-obituary
'Defender of his faith' An appreciation of Zaki Badawi, one of British Islam's first leaders and founder of many Islamic institutions in Britain. He coined the term 'British Islam'.
Read more www.theguardian.com/world/2003/jan/15/terrorism.religion
Tag